For this week's CopyCat look, Ana Maria from High Street Cardigans was my muse. I simply adore her style, plus she has a super fun, sassy persona that really comes through in her writing. This Romanian beauty really knows her stuff.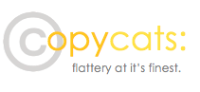 Here is Ana Maria's look, chic and fun.
Here is my CopyCat look.
I wish I had the chance to use a bustling metropolitan street as the background for my pics. Alas, you'll have to settle for my foyer...way too cold outside. I wore my flyaway, asymmetrical cardigan and the faux fur stole from another sweater. Because I was feeling vicariously sassy, I tried out red lipstick - a first! This is Ulta's Moroccan Red with a glaze of Estée Lauder Pure Color Gloss in Electric Ginger Shimmer over it.
In this ensemble, head-to-toe: pearl studs-Claire's, faux fur stole-Loft (attaches to a sweater; seen here and here), brooch-family heirloom (also seen here), cardigan-Loft (also seen here), top-Banana Republic, jeans-Loft (also seen here), bracelets-Loft, purse-Coach (also seen here), shoes-Charlotte Russe
I picked these up in Vegas. I like that they're a little bit more than just basic nude heels. And if I haven't said it before, I'll say it now: I can't get enough of the rolled jeans look! Between that and the fur is what sold me on this look.
I kept the rest of my makeup simple so it wouldn't look clownish with the red lips. What do you think about the red? Yay or nay?
And go check out Sarah's CopyCat look this week at Frills for Thrills.
~Beaucoup de Bisous~