When I discovered a fun series at Frills for Thrills, I knew I had to hop on the fun wagon! Sarah started this CopyCat series and I fell in love with the concept of it. I have to admit, deciding who I would copy for my first post, I was a bit overwhelmed! There are so many fellow bloggers whose style I love and looks I wanted to replicate.
Well, I am a huge admirer of
Sydne Summer
. I love her sense of style and how she pieces her outfits. In fact, her's was the first fashion blog I was exposed to a few years ago (thanks to Twitter). So, I figured why not start with one of her looks.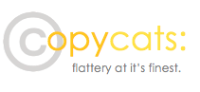 Here is Sydne's
outfit
, simple yet chic.
The pieces I have in my closet do have different proportions than Sydne's outfit, but I think it still works (a longer blouse and cropped blazer versus her shorter blouse and longer blazer). I opted for a chunky bangle on my wrist instead of a chunky necklace since the blouse has a higher neck, and I chose to forgo the shades. All the other elements are the same: the color of the blouse and blazer, ruffles on the blouse, vintage Chanel-inspired purse, and black heels.
In this CopyCat ensemble, head-to-toe: stud earrings-Express, blazer-H&M, blouse-Old Navy, bangle-Premier Designs Jewelry (also seen here), jeans-Loft (also seen here), purse-vintage (also seen here), shoes-Nine West (also seen here)
I have a whole list of fellow bloggers I want to flatter by copying their looks, so check back in on Fridays for this series. And thank you, Sarah at Frills for Thrills, for the fun opportunity! You all should get in on the fun!